Registered Meat Cutting Apprenticeship Program
Buzz Foods Service and Appalachian Abattoir are excited to offer a registered Meat Cutting Apprenticeship Program through the Department of Labor. 
Interested in applying? Reach out to angela@beef.buzz. 
Apprentices will spend approximately 2.5 years working towards completing 4550 paid hours of On-the-Job Learning building your skillset as a meat-cutter, along with a minimum of 328 hours of related training and instruction in the meat industry.
Training topics cover skills needed to be a successful meat-cutter including breakdown for beef, pork, lamb, goat, poultry, seafood, along with merchandizing, communications and general industry topics.
Training and On-the-Job outline is available to download here.
Benefits of Apprenticeship:
Earn a Journeyman's certificate while being paid to work!
Gain skills and related training knowledge
End your apprenticeship with a Journeyman's wage
Earn college credit through your apprenticeship.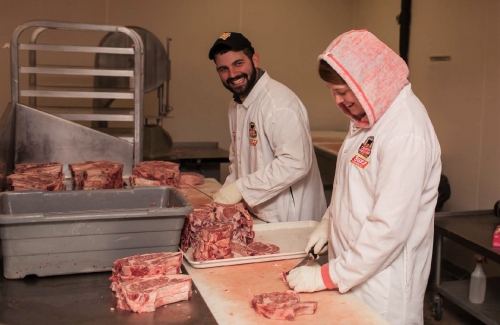 Eligibility and requirements:
(For full list of Requirements and how to apply please download the Standards and Appendix A here.
Age: Applicants must be at least 18 years of age at the start of the program (applicants under the age of 18 but that will be 18 at the start date are eligible to apply).
Education: Applicants must have graduated high school and/or completed their GED.
Work Authorization: Applicants must be eligible to work in the United States at the time of application.
Physical Condition: Applicants must be able to physically perform the job duties. At a minimum be able to work on their feet the majority of the day in cool conditions and be able to lift up to 50lbs.
Drug and Hazardous Substances: Applicants must be able to pass a drug screen and be willing to undertake period random drug testing.
To apply:
All applicants must submit an application form and review the employee handbook and apprenticeship standards
Provide a copy of transcripts or GED completion
Provide an up-to-date resume
Provide proof of age and residency (driver's license, SSN, Work Authorization document)
If an application is applying with previous experience to be used toward program hours, proof of hours is required.
Applicants will then complete an in person interview with the apprentice review committee.
For more information or to apply please contact: Angela Gould at 304-925-4781 or angela@beef.buzz.
To apply please send applications to angela@beef.buzz with the subject "Apprenticeship Application"