Annie Stroud
Administrative Manager
Annie joined Buzz in August 2018 as the Project Manager for our expansion project, Appalachia Abattoir. Annie comes to Buzz with years of experience studying and improving local food systems and recently authored the definitive work on local opportunities in the meat business, titled "Beefing Up Appalachia" which is linked below. Annie grew up on a farm in Greenbrier County, where her parents still live. In her free time she plays old-time fiddle. Annie can be reached at annie@beef.buzz or 304-925-4781 x114.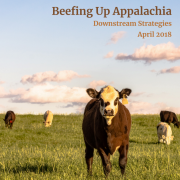 Favorite Cut Of Meat: Coulotte
Favorite Side Dish: Southern-style Greens and/or Biscuits
Best Advice You've Received: Clean The Kitchen As You Go - Thanks Mom!
Favorite Outdoor Smell: The Woods
Splurge Grocery Item You Haven't Splurged On Yet: One of everything in the fancy cheese case
Food Item You Can't Live Without: Bread & Coffee
Since Joining the Appalachian Abattoir team, Annie has completed the following Trainings:
OSHA-10 Certified
Beef Quality Assurance Certified
Certified Angus Beef Associates Training
Certified as a Preventive Controls Qualified Individual
Bovine Emergency Response Plan Certified
Certified as a Hazard Analysis Crticial Control Plan Individual
Bloodbourne Pathogen Training